Do you know the benefits of frozen foods? Or why is frozen food becoming a very popular ready-to-eat and Heat & eat food across the globe?
Mankind has been preserving food since its appearance on Earth. As primitive man, it buried its food in snow since that's nature's way to preserve food! And now we do the same in our refrigerators at home, isn't it?
Did you know? Frozen food contains no preservatives. It is a natural form of preservation.
You will be delighted to know that the Sankalp Group has launched its vast range of Frozen foods in the category of ready to eat food, ready to eat meals and we are going pan-Indian in our presence in 2022. 
Benefits Of Frozen Food & Why You Must Try Sankalp Ready to Eat Frozen Foods
Various scientific studies have proven over the time that frozen foods retain the nutrition same as the original vitamins and minerals. 
1. Longer Shelf life
Do you know that freezing the food properly the way Sankalp Frozen Foods are done, can keep them fresh and nutritious over a very long time, like even a year? Yes, we offer you ready to eat meals that are original in not just flavor, but texture, and nutrition as well. A long shelf life is thus among the top benefits of frozen food. 
2. Zero Wastage
At times, people cook excess food that later is perhaps of no use to them. But the Sankalp Frozen ready to eat meals come in pre-decided quantities like ready to serve two or more, the right amount of food packaging ensures zero wastage of food. 
3. Nutrition
With decades of experience and expertise behind our team of Chefs, we have a profound knowledge of making great frozen foods. A considerable lot of our dishes are low in fat, low saturated fat, sugar and salt. In addition, our food is liberated from added substances like artificial colors and flavors so you can partake in a healthy and wholesome meal, anywhere, anytime without any worries. Our dieticians work intimately with our gourmet experts to make ready to eat food recipes that taste great and cater for the majority dietary requirements of the Indian food palate.
4. Quality
Sankalp groups award-winning team of in-house chefs in apt guidance of our in-house dieticians ensure the excellent quality and timely freezing of the food to lock all the nutritional goodness. 
5. Food Safety
When you are with Sankalp as a consumer, you are in safe hands, not just quality wise, but also nutrition and freezing time wise. On each pack we mention details of how long that ready to eat meal is safe to consume plus how you must store that ready to eat food. Also our vacuumised food packing ensures zero microbes. 
6. Availability/Universal Presence
We have just launched our vast range of frozen foods ranging from frozen dal makhani, Hara bhara kebab, Makhni gravy, manchurian dumplings, medu vada and sambar and more. We are registering a pan India presence of our ready to eat meals along with benefits of frozen food so that we can take this to a global level soon. The whole idea is to cater you with the choicest delectable ready to eat food anytime, anywhere in the world. 
7. Convenience
Naturally, One of the most famous advantages of freezing food is comfort to carry it anywhere and conveniently toss it as a whole meal anytime. Frozen foods are easy to carry to work, travel vacations, to warm up at home when sudden guests arrive or to toss up a meal at ease after an intense session at the gym. 
Sankalp Frozen Food Range
Our frozen food packaging, taste and quality is at par with global standards. And here below we are sharing our most sought after products: 
1. Sankalp Hara Bhara Kebab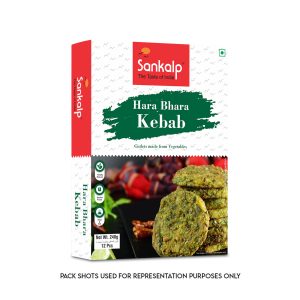 At Sankalp Gourmet Delight charts we call this our 'goodness of greens loaded with taste.' A very healthy snack that is loaded with plenty of leafy and other vegetables like spinach, peas, raw bananas and more. It is 100% fat free, cholesterol free and high on iron for body strength. 
2. Sankalp Walnut Brownie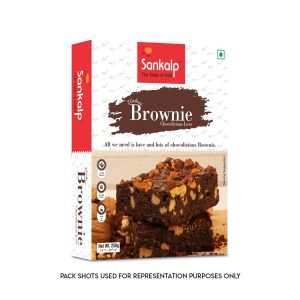 What's a meal without a dessert, but what if you are planning a remote vacation or work trip?! And your sweet tooth is asking for more than just a delicious Indian meal? Our Sankalp Walnut Brownie is our classic pride with goodness of walnuts, honey & chocolate, that can be munched without dietary guilt anywhere. 
3. Sankalp Manchurian Dumpling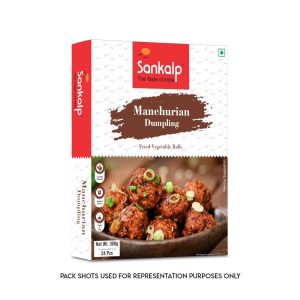 Guests knock at the door and you wish to toss up something beyond a typical Indian meal. That's when Sankalp Manchurian Dumplings come handy as these are pre-fried frozen food that you simply have to toss up in the Manchurian Curry. And Voila, you are ready to serve it with noodles or rice!
4. Sankalp Sambar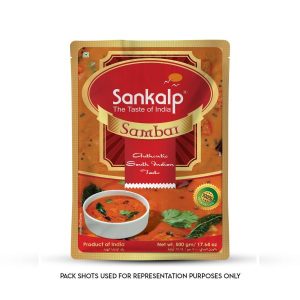 Imagine sitting in an office or a resort where you have a sudden craving for dipping your fingers and soul into the yummy-licious South Indian Sambar. Done perfectly to your taste, the ready to eat Sankalp Sambhar will fulfill your wish, anytime anywhere just like a food genie! 
5. Sankalp Dal Makhani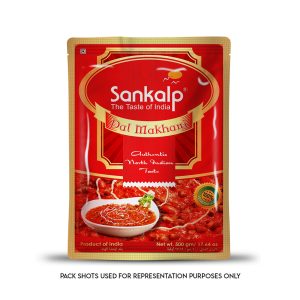 Cooked with lentils and red kidney beans with a hand-picked blend of extraordinary Indian spices, Sankalp Dal Makhani is a heavenly delight that is a forever-in-demand Punjabi dish. At Sankalp, we use only natural ingredients to toss up this rich and flavourful curry, and it contains no artificial additives. Light milk cream and butter are likewise used to add an exceptional profundity of flavor and fragrance to this frozen dal makhani. 
SUMMARIZING 
There are various brands that will offer you a vast range of frozen foods, but always compare the ingredients to ensure the final quality check. After all, health is wealth, and that's what we guarantee you!